Fine Arts
Welcome to Fine Arts at LCHS
Welcome to the Fine Arts website! Here you will find important information relating to the happenings of Visual Art, Music and Drama courses and clubs.
Feel free to view our galleries, videos, events calendar, achievements and more. Also, learn more about what we have to offer through our course and extra-curricular selections.
Contacts:
Trevor Smith, Visual Arts
Simon Stang, Drama
Stephen Davis, Music
Art Department
Welcome to the LCHS Art Department!
Here you will find information about our courses and clubs.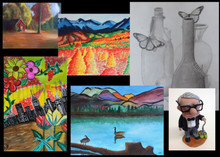 Visual Arts 10/20/30
Visual Arts at LCHS affords students the opportunity to showcase their talents and to build on their skills using a variety of techniques, concepts and media.
Visual Art 10 is a great class for all skill levels and focuses heavily on basic skills in illustration, painting, sculpture, and more, while also exploring various sources of artistic creativity.
Students will continue to expand their knowledge and abilities throughout Visual Art 20 and 30. These classes build off one another and students are encouraged to take them in sequential order. Throughout the three levels students will explore their own passions and grow their confidence as artists as well as explore the works of many artists, art movements, art forms and artistic careers in a supportive and engaging environment.
LCHS Art Club
Art Club allows both talented artists and beginners to connect, to improve their skills and to create amazing works of art. Members are given freedom to create very personal artworks of their choice or they can join together to create larger school or community pieces.
Experience is not necessary, but passion is a must. We meet one day after school every week in room 1612, and open studio time will be provided during lunch hours. Art Club is open to all LCHS students and enrollment in a Visual Art class is NOT required. We hope to see you there!
Drama Department
Welcome to the LCHS Drama Department!
Check back here for upcoming performances, show times and exciting drama news!
Drama 10/20/30
The easiest way to get involved with drama at the school is to sign up for Drama 10, 20, and/or 30. These classes build off one another and students are encouraged to take them in sequential order.
All drama classes will feature scene/monologue/play showcase nights that are open to the public. With enrolment up this year, it can only mean one thing … more performances! Stay tuned for dates and times for these shows.
Improv Club
LICE
The LCHS Improv Club -- also known as LICE -- is an extra-curricular club that meets weekly to learn and hone member's improvisational skills. We put on monthly comedy shows that are unlike any you will see in the city.
Improv is completely unscripted, unrehearsed and unpredictable. The club also puts on Improv Workshops for elementary and middle schools throughout the year, participates and volunteers in community events and has been hired in the past for fundraisers and social events.
Drama Club
LYT
The LCHS Young Thespians -- also known as LYT -- is another extracurricular club offered by the LCHS Drama Department and is a great opportunity for students to get involved with the school's play and musical productions. This club puts annual Winter and Spring productions, and also collaborates to send plays to the One-Act Festival in Ardrossan, AB.
In addition to actors, we are always looking for Stage Managers and Theatre Techs. This year, students will also be eligible to earn a credit for their participation in the productions. For more details please speak with Mr. Stang.
Music Department
Welcome to the LCHS Music Department!
Check back here for upcoming concert dates, fundraisers and exciting news out of the band room!
Band 10/20/30
Band 10/20/30 is a full-year class, alternating every second day with another LCHS class. Students join the ensemble as an individual and become part of the 'band family' by the end of the year, forming close relationships with students in the ensemble.
There are two LCHS concert band ensembles -- the Grade 10 Wind Ensemble and the Grade 11/12 Symphonic Band. Technique, theory and ear training are studied almost daily, while students also experience a variety of repertoire styles from marches to more contemporary/modern repertoire.
Each term culminates with a performance in November and May that is open to the public and displays the talent and hard work the students have dedicated to their instrument and ensemble. The ensembles also perform at the Lloydminster Kiwanis Music Festival each spring.
Numerous clinic opportunities are offered to students throughout the year, and each ensemble travels to a festival performance or retreat experience each spring. Students in Grades 11 and 12 can look forward to a large-scale trip in either their Grade 11 or 12 year.
Fundraising opportunities are offered to students throughout the year to help with travel costs. Students are expected to own their own instrument by Grade 10, however some LPSD band instruments are available to rent if needed.
Jazz Studies 10/20/30
This combined Grade 10-12 class is offered every Tuesday and Thursday from 3:30-4:45 p.m. Students expand upon their skills learned in Concert Band, with a particular focus on jazz technique, improvisation skills, ear training, jazz theory and jazz history. It is recommended that students take Band 10/20/30 as a co-requisite to Jazz Studies 10/20/30.
Traditionally, the Jazz Ensemble performs at community functions and school events, such as assemblies and LCHS Diverse.
The ensemble travels to a festival each spring, with a larger trip offered every three years.
Garage Band 10/20
For the student who does not play a concert band or jazz instrument but still loves music and wants to experience performance, LCHS Garage Band classes are the perfect fit. Each class forms a band from the students enrolled, and the band embarks on a journey to cover as many songs as they can, with two public performances each term.
Garage Band 10 focuses on group performance skills, such as stage presence, instrument technique, learning to play in a band and the art of the acoustic performance.
Garage Band 20 focuses more on the development of the individual musician, with a music portfolio finished by the end of the term.
Each class is semestered, and Garage Band 30 is not yet offered at this time. Students do need to know how to play guitar, bass, drums, keyboard or have strong vocal skills to join this class. Individual instruments are recommended, but not required as class materials.
Choral 10/20/30
This combined 10/20/30 semestered class is the perfect fit for the young vocalist who would like to experience choral singing in an ensemble and further develop their vocal skills. Students are taught a variety of vocal skills including sight singing, ear training, basic music theory, and experience different repertoire styles from more traditional sacred songs to musicals or popular medleys.
While no previous singing experience is required, it is recommended that students have a passion for developing their vocal skills and are willing to learn. The students perform concerts at the end of the term, as well as participate in the Lloydminster Kiwanis Music Festival, and the LPSD All Schools Music Concert held the first Monday in May.